Get Back in the Game with York County

We're so excited to welcome you back to York County safely. Whether you're here to visit one of our many attractions, eat at one of our award-winning restaurants, watch sports in our state of the art facilities, or to stay at one of our hotels, we welcome you back safely. Below you'll find guidelines that have been set in place by attractions, sports facilities, restaurants, and hotels.
 
Mask Mandates
South Carolina is now requiring face coverings to be worn when entering any restaurant. You may remove the face covering once you are seated. 
Rock Hill- City Council approved an emergency ordinance requiring face coverings be worn in certain circumstances. The requirement is in effect for 60 days unless City Council votes to suspend it sooner. Face coverings will be required within the Rock Hill City limits when:
Inside City facilities
When using or driving public or commercial transportation, including My Ride buses
Inside any retail, service or food service establishment
Staff at retail and service establishments must wear face coverings while working in areas open to the general public or in interactions with other staff where 6 feet of separation can't be maintained
Staff at food service establishments, including delivery drivers, must wear face coverings when interacting with customers

Find more information on the ordinance and exemptions here.

Tega Cay- The City of Tega Cay does not currently have a mask mandate in effect, but strongly encourages people to wear masks or face coverings when inside the enclosed area of any retail or food service establishment (except while eating or drinking). This includes employees of those establishments, too.

Fort Mill- While Fort Mill's initial mask ordinance has expired, a mask ordinance that is in effect from the State of South Carolina requires all patrons to wear a mask while inside restaurant establishments, government buildings, and public attractions such as movie theaters, arenas, and stadiums. This mandate goes into effect on August 5th.
York - York city council approved a face mask ordinance to go into effect July 21st. It requires all patrons to wear a face mask into a retail or food establishment within city limits. If dining, you will be required to wear a face covering until you are seated. To read the full ordinance click here.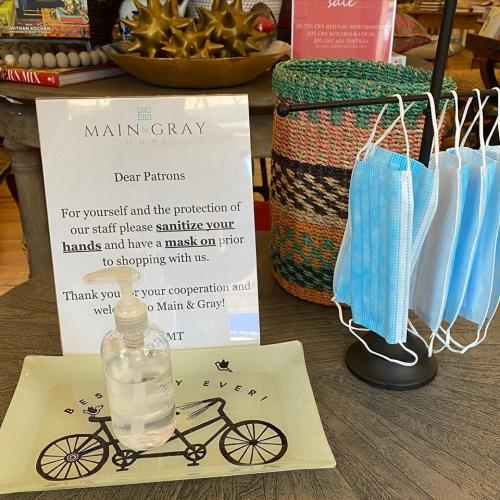 Attractions
While some major attractions such as Carowinds, Historic Brattonsville and the Museum of York County are still closed, we have many locations open and ready to serve you. Here's some of the guidelines in place you'll see to keep you safe!
NarroWay Productions - As a rule, NarroWay has always adhered to high safety and cleanliness standards. Those practices will continue, along with additional new ones:
They have purchased and are using an Electrostatic Sprayer between shows and have hired a professional cleaning company. All audience and cast members are temperature checked when they arrive, and audience members now have "theatre-assigned" seating to assure social distancing. You will also see cast, staff, and volunteers wearing masks and gloves while serving. Additionally, hand sanitizer stations are placed throughout the lobby, concessions, gift shop, and entrances. You will also see DHEC signage posted as a reminder for guests to follow guidelines.
Viking's Axe - Viking's Axe has implemented new rules upon their reopening to keep both employees and axe-throwers safe. The guidelines they have set include:
Every employee gets their temperature taken at the beginning of their shift, and are required to wear masks at all time while with a client. All bathrooms are cleaned and sprayed with disinfectant after each use, while all areas and axes are wiped down with bleach wipes when the customer departs. Viking's Axe has switched to using paper consent forms and wipes down used pens with wipes after every use. Additionally, you can find hand sanitizer at each throwing cage. Throwing cages are spaced eight feet apart and people are asked to stay six feet apart to adhere to social distance requirements.
Mr. Putty's Fun Park - The fun park will continue to follow and adhere to all state issued guidelines, such as proper cleaning and disinfecting practices of all apparatuses, common areas, and customer bathrooms. Guests can also feel free to bring their own putters and golf balls, or to give the park a call ahead with payment! They ask to let them know your group size, as well as the make and model of your vehicle.
SouthTown Wake Park - This unique water experience park has put together a list of rules that guests must follow to keep everyone safe:
All bookings and payments must be reserved online to limit contact with staff. No cash will be accepted. Whether riding the wakeboards or hanging out on the aquapark, all guests must wear the park's life vests, which are sanitized after each session. The aquapark is limited to a 10 person capacity, with the exception of groups that come together. The aquapark will be sanitized after each group. They ask that people continue to social distance from each other and to only allow one person or one group that came together to enter the Pro Shop at a time.
Adventure Air Sports - To ensure the health and safety of guests, Adventure Air Sports is taking the following measures:
Guests are encouraged to wear cloth face coverings, which can be purchased through their online webstore. Wash or sanitizing of hands often is encouraged. Guests are asked to stay six feet away from others, and to not touch their eyes, nose, or mouth. No physical contact between guests and staff, including high fives or fist bumps, is allowed. Guests will hear regular automated announcements reminding guests/staff to keep a safe distance and to avoid grouping. Equipment layout has been adjusted to restrict access to equipment so as to maintain appropriate social distancing among guests. Employees complete a thorough cleaning checklist every 30 minutes and in between guests and groups.

Sports Facilities
City of Rock Hill Parks, Recreation & Tourism has implemented a few rules that are in effect until further notice for their sports and recreation facilities:
·         You must bring your own ball and/or water bottles.
·         Pick-up Basketball Games are NOT permitted at any of our facilities at this time.
·         Hand sanitizing stations are located throughout each facility.
·         No equipment rentals.
·         Pools remain CLOSED until further notice.

Restaurants
The South Carolina Restaurant and Lodging Association (SCRLA) has launched the Palmetto Priority - a pledge that restaurants will agree to sign that includes a variety of guidelines and other promises. This includes completing a checklist of operational assurances as outlined in the restaurant reopening guidelines, participating in required free online education, and participating in a DHEC limited-scope food safety inspection. If a restaurant signs the pledge, they will receive certification from SCRLA and the state of South Carolina and a window cling that shows this certification to the public. You can read more about the Palmetto Priority here.
Restaurants are currently allowed to operate at 100% capacity for indoor dining, as long as tables are spaced six feet apart and each party contains no more than eight people. You can find open restaurants here and filter by the following amenities: open for business, temporarily closed, and available for dine-in, patio dining, take-out, or curbside pickup.
Want to know who's participating in the Palmetto Priority Program? Find the list here.

Hotels
Each hotel has adopted a set of procedures put in place to keep things clean and keep you and their staff healthy. For example, you will see that some hotels have decided to stop serving breakfast entirely, or have switched to a "grab and go" style of service. Marriott has announced that they will require face masks starting July 27th in facilities nationwide. You'll also see signs posted to remind people of social distancing policies. Other hotels have taken measures to assure guests that their room is clean, and nobody has been in there since the cleaning, by placing sticker seals onto the doors. You can find our preferred hotels here.