YORK COUNTY, S.C. January 27, 2023— In partnership with the South Carolina Brewer's Guild, Visit York County hosted the YoCo Brew Trail Legislative Roundtable on Thursday, January 26, 2023 at Legal Remedy Brewing in Rock Hill. Through an interactive roundtable discussion with representatives from the local and State Legislator, York County breweries voiced opportunities to address barriers to growth and a path for industry improvement. 
"Our craft breweries are such a large part of York County's identity and they continue to be a significant tourism draw," said Andy Clinton, President and CEO of Visit York County. "The YoCo Brew Trail Legislative Roundtable provided a forum to continue to improve the legislative landscape for breweries to thrive in York County and South Carolina."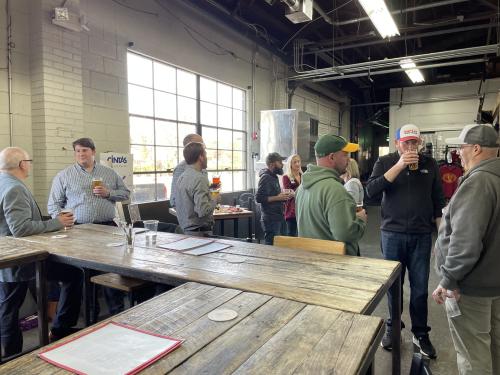 Attendees included representatives from nearly all York County breweries, the York County Regional Chamber of Commerce, Senator Wes Climer, and Representative Heath Sessions, among others. 
Campbell Mims, Association Manager for the South Carolina Brewer's Guild moderated a discussion about production, inflation, workforce, and current legislative efforts. As a result of the meeting, Visit York County will host a follow-up forum with educational resource providers to connect brewers with new talent pipeline opportunities. 
The YoCo Brew Trail was founded in 2019 with less than ten breweries. The Visit York County initiative aims to support the area's booming craft brewery scene through a free, physical guide for visitors and residents. Through strategic marketing and a passport model, the YoCo Brew Trail drives visitors to now 15 craft breweries that call York County home. 
Learn more about the YoCo Brew Trail here.