ROCK HILL, SC (January 26, 2023) – Chef Rob Masone of Kounter and Kre8 Xperiences in Rock Hill, South Carolina, has been selected as a 2023 South Carolina Chef Ambassador. Chef Masone is one of three culinary experts selected to represent South Carolina at food festivals, media events, and other forums. 
Lt. Gov. Pamela Evette made the announcement on behalf of Gov. Henry McMaster, along with Commissioner of Agriculture Hugh Weathers and Department of Parks, Recreation and Tourism Duane Parrish.
"We are proud to have these three outstanding chefs represent South Carolina this year as Chef Ambassadors," Gov. McMaster said. "The incredible culinary skill of these chefs and other chefs like them around our state greatly strengthens our cultural heritage and helps to bring millions of visitors to our state each year."
About the South Carolina Chef Ambassador Program
The South Carolina Chef Ambassador program was started in 2014 by Gov. Nikki Haley to highlight the state's talented chefs, creative recipes, authentic cuisines, locally grown produce, and unique products. Tourism and agriculture both have a significant impact on the state, contributing tens of billions of dollars to the state's economy each year and accounting for hundreds of thousands of jobs statewide, according to South Carolina Parks, Recreation & Tourism. The program was created to unite these two major industries while promoting South Carolina as a top culinary destination.
About Chef Rob Masone
Chef Masone's restaurant, Kounter, is located in the heart of his hometown, Rock Hill, South Carolina. It occupies the former McCrory's Five & Dime site, where activists staged a peaceful sit-in protest at the segregated lunch counter in 1961. Committed to preserving and sharing the story of the Friendship 9, Chef Masone restored the building's history including the original lunch counter. He is also the founder and operator of the Gathering Space, an event space adjacent to the restaurant. His catering and events service business, Kre8 Xperiences, continues to serve the area with a highly successful food truck, Twisted Eats.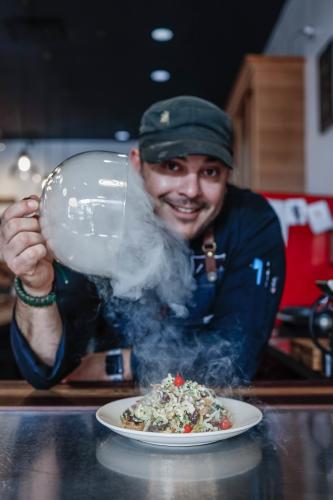 "I am honored to be selected as a 2023 South Carolina Chef Ambassador," says Chef Rob Masone. "I hope to inspire those to follow their culinary passions whether at home or in a professional setting, to motivate people to eat and spend locally, and most importantly that its perfectly ok to, 'Play with your Food.'"
"Chef Masone is an active advocate for tourism and the hospitality sector in York County," says Andy Clinton, president of CEO of Visit York County, the destination marketing organization for York County. "He is actively involved in local workforce development efforts to support a thriving hospitality talent pipeline. Last summer, Chef Masone even started a Sunday Supper Club dinner series to support increased business and foot traffic for Rock Hill's Main Street businesses."
"Chef Masone is highly recognized in York County as a leader in the restaurant industry," says Jenny Parrish, executive director of the Olde English District Tourism Commission, the destination marketing organization for South Carolina's piedmont region. "Not only do locals love his dishes, but visitors alike flock to Kounter to try the food and learn more about the restaurants' history and significance."
For more information on the SC Chef Ambassador program, please visit www.DiscoverSouthCarolina.com/chef-ambassadors or www.certifiedscgrown.com/partners/chef-ambassador-program. 
###
About Visit York County 
As the Destination Marketing Organization (DMO) for York County, South Carolina, Visit York County exists to raise the profile and boost the economy of York County through tourism and destination marketing while also contributing to the quality of life for residents. For additional information, visit www.VisitYorkCounty.com.
Olde English District Tourism Commission
The Olde English District Tourism Commission is the Destination Marketing Organization (DMO) for seven counties in South Carolina: Chester, Chesterfield, Fairfield, Kershaw, Lancaster, Union and York. The district received its name because of the region's early settlement by the English in the mid-1770s and was created by the South Carolina Legislature in 1982. The Olde English District markets and promotes the tourism assets for its seven counties to visitors 50 miles or more outside the area. For more information, visit www.oldeenglishdistrict.com.